Forum
Skip to content
International & Overseas Events & Discussion
---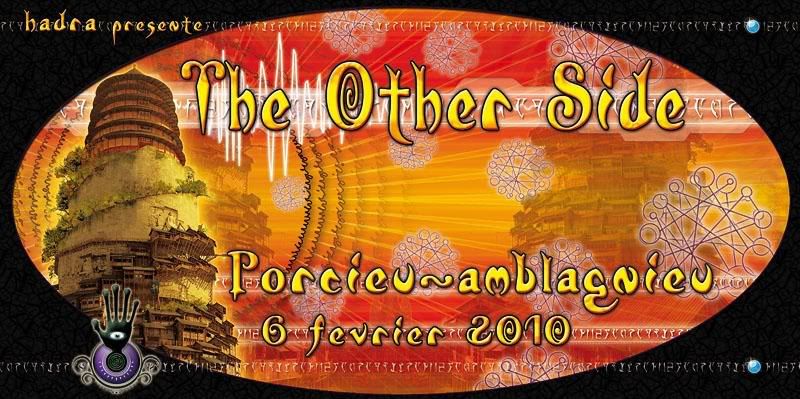 Hadra is coming to you one more time with « The Other Side », the 5th edition of the parties organized in Porcieu-Amblagnieu (38) since 2005. You'll expect a colorful line-up of music, video and deco artists !!
Come to us to spend this long long winter's night for more that 12 hours of music non-stop in a big venue full decorated and transformed into a magical universe by 4 different decoteams (Felix, coming from Germany, Rub & Friends from Switzerland and FMR & Les Lucioles from the Hadra Team).
CPU, Andromeda and Irgum Burgum are gonna flip your mind with their new awesome live acts !!
And you can expect to be transcended by Solaris (Fractal Rec.) and Gnaia's (Planet UK) effervescent DJ Sets !!
The Wii Skiller Krew is gonna give us the pleasure of building up a unique video structure and will be joined by the Hadra VJs Team (VJ LiKid & Nolive) for the main stage.
The Hadra Team will be strongly represented by D_Root, who will give us an insight into his coming soon (Spring 2010) first album through his new live act.
Lunarave will be assisted by VJ 2.0 for a new audio/video live act and finally, DJ Manu, newcomer in Hadra Records, will make you dance with his new wild type DJ Set !
….See you on the Other Side !
- LIVE ACTS -
CPU – Nutek Rec. / Suisse (Switzerland)
http://www.myspace.com/therealcpu
ANDROMEDA – Dream Vision Media & YSE / Suède (Sweden)
http://www.myspace.com/andromedamusicnet
IRGUM BURGUM – Psybaba Rec. / Hongrie (Hungary)
http://www.myspace.com/irgumburgum
D_ROOT – Hadra Rec. / Chambéry (France)
http://www.myspace.com/droothadra
LUNARAVE – Hadra Rec. / Chambéry (France)
http://www.myspace.com/lunarave
- DJ SETS -
SOLARIS – Fractal Rec. / Suisse (Switzerland)
http://www.myspace.com/fractalsolaris
MANU – Hadra Rec. / Gap (France)
http://www.myspace.com/hadrarecords
GNAIA – Autonome Rec. & Planet UK / Saint-Etienne (France)
http://www.myspace.com/gnaia
- DECO -
FELIX / Allemagne (Germany)
http://www.myspace.com/felix_stoever
RUB & FRIENDS – Biolive / Suisse (Switzerland)
http://www.myspace.com/rubdeco
FMR – Hadra & Transubtil / Marseille (France)
http://www.myspace.com/fmrtransubtil
LES LUCIOLES – Hadra / Grenoble (France)
http://www.myspace.com/lesluciolesdhadra
- VIDEO -
WII SKILLER KREW – Totaal Rez / Lyon (France)
http://www.myspace.com/wiiskillerkrew
LIKID – Hadra / Grenoble (France)
NOLIVE – Hadra / Grenoble (France)
VJ 2.0 / Chambery (France)
Presales :
http://www.hadra.net/shop.php
Bureau Hadra : 10 bis rue Ampère – Grenoble
Presales : 16€ / At the gate : 20€ / 13€ for the 100 first sold tickets on
http://www.hadra.net
Presales avaible on ::
HADRA -
http://www.hadra.net/shop.php
- Bureau Hadra : 10 bis rue Ampère – Grenoble
EARDRUM - 3 place Griffon 69001 Lyon - 04 78 39 35 40
MAGIC BUS- 1 rue Gabriel Péri 38000 Grenoble - 04 76 43 02 18
INTERFACE RECECORDS - 1 place Bérulle 38000 Grenoble - 04 76 44 09 43
FNAC BILLETTERIE : Fnac, Carrefour, Géant - 0 892 683 622 (0,34€/min) -
http://www.fnac.com
TICKETNET : Auchan, Virgin Megastore, E. Leclerc, Cultura, Cora - 0 892 390 100 (0,34€/min) -
http://www.ticketnet.fr
Limited capacity, presales recommended
More info :
http://www.hadra.net
Tel. +33(0)4 38 49 29 44
Office Hadra : 10 bis rue Ampère - Grenoble
Who is online
Users browsing this forum: No registered users and 2 guests