Forum
Skip to content
International & Overseas Events & Discussion
Posts: 5
Joined: Mon Nov 26, 2007 12:03 am
---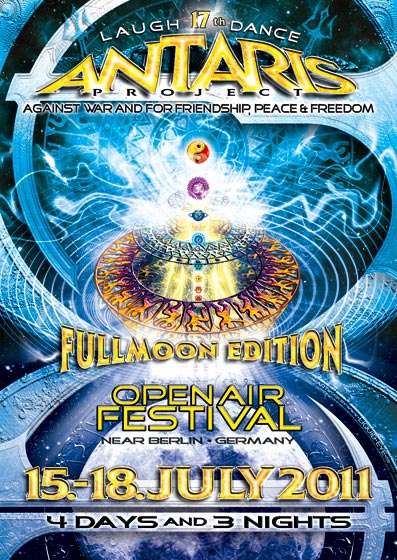 17th. ANTARIS PROJECT, 15.- 18. July, near Berlin/GERMANY
Four days and three nights "Laugh and Dance": After 17 editions in a row ANTARIS has established itself as a Psytrance Institution and is the oldest name on the worldwide Trance Festival circuit. Every year thousands of visitors gather near Berlin to celebrate another weekend of of love, peace, unity and happiness.
This year ANTARIS stands under a lucky star as the date next summer will be very special: The 17th edition will take place on the Fullmoon weekend from the 15th to 18th of July. The location is the historical Otto-Lilienthal-Airport in Stolln, a wonderful site in the middle of nature about one hours drive from Berlin. One week later the Vuuv, another big Trance Festival, will take place not far from ANTARIS.
Over four days and three nights ANTARIS presents an international top lineup playing the best of todays Full-On, Psytrance, Progressive and Electro for your ears. More than 30 Liveacts and 40 Djs will supply the finest quality sound on both floors and the mainfloor will stay open until Monday evening. For your eyes we will install a spectacular blacklight and spacey day and night decoration. For your heart we set up the Spiritual Circle again that this year will be extended by an Ambient Floor where you can chillout and replenish your energie to relaxed tunes.
Parking and Camping is free on our huge Campsite in the middle of nature and our diverse shopping mile will cater for everything a trancer could need on a long weekend.
ANTARIS LINEUP 2011:LIVE:
Special Live concert by The Peaking Goddess Collective
Ace Ventura / Iboga/Echoes Rec. Isr.
Atriohm / Parvati Rec. Macedonia
Avalon / Nano Rec. UK
Captn Hook / Iboga Rec. Isr
Day Din / Spintwist Rec. Ger
E-Mantra / Suntrip/Vimana Rec. RO
Earthling / Spun Rec. Sp
Easy Riders / Echoes Rec. Isr
Encephalopatycis / Parvati Rec. Macedonia
Filteria / Suntrip Rec. Sw
Genepool / Syncronize Rec. Ire
Hedonix / Electric Power Pole/Vertigo Austr.
Hutti Heita /Yggdrasil Rec. Norway
Ianuaria / Glowing Flame/Blue Hour Sounds AU
Jahbo / Parvati Rec. DK
J & B Project / Amplidudes Rec. Ger
Killawatts / Nano Rec. UK
Koxbox / Twisted Rec. DK
Laughing Buddha /Nano Rec. UK
Onkel Dunkel /Parvati Rec. DK
Papiyan / Parvati Rec. DK
Parasense / Bom Shanka Rec. RU
Procs / Trishula/ Manic Dragon Sw
Protonica / Iono Music Ger
Quantize / Iboga Rec. Isr.
Ra / Suntrip Rec. Norway
Rev / Doof/Bomshankar Rec NL
Rocky / Echoes Rec. Isr.
Sirion / Millenium Rec. YSE Ger
Solar Spectrum / Glowing Flame Swiss
Space Tribe / Space Tribe Music UK
Tristan / Nano Rec. UK
More tba
DJs:
DJANES Alice D Joanna / Ger
Astray / Ger
DJANE Back to Mars / Mind Funk Music/ Magnetika BR/NL
DJANE Baha / DK
Buzz'T / Port.
Khristian / Transient UK
Daksinamurti / Timecode /Peak Rec.Ger
Damon / Ger
DJANE Domino / UK
DJANE Ekanta / Bras.
Gandalf / Ger
George / Aphonix Swiss
Javeed / Ger
Koscki / Ger
Luca & Jazzmine / Blue Hour Sounds It/ Ger
Mike Mc Guire / UK
Namaskar / Ger
Profane / Iboga DK
Psylotropic / Ibiza
Robin / Ire
Shore Bar Axel / Syncronize Rec. Ire
Sid & Yamal / Ibiza
Trevor Pixie / UK
Zimon / Syncronize Rec.Ire
Some surprises still waiting to be confirmed,but "please" do not send us any more booking requests.
Please check our Website:
http://www.antaris-project.de
Laugh&Dance – it's for your eyes, your ears and your heart!
ANT-ARIS = AGAINST WAR!
---
very nice lineup!
good luck to Hedonix too hope you guys have a great time
Who is online
Users browsing this forum: No registered users and 1 guest