Forum
Skip to content
Queensland Forums (Brisbane etc) - Upcoming Events, Lifts, Scene Discussion & more.
Posts: 38
Joined: Tue Mar 02, 2010 10:25 pm
---


Saturday the 7th of August
Deep Space Entertainment & Stepinn -

Are putting on another crazy Space Themed party with 2 rooms of Psy-Trance / Psy-Breaks /&/ Dub-Step / Drum & Bass.
Packed with mental effects, coloured lazers and psychedelic visualz, this shin-dig is gonna go off...
The plan is to get this going in brisbane as a monthly event. This will give tonnes of local Psy / Breaks artists the chance to get out there and have a bit more of a bash (get regular paid gigs), it will create spots in the scene for new and up coming local artists, and it will give us more opportunity to book and host international and interstate acts on a regular basis.

The 1st 4 have been really fun and really successful - But we still need lots more support from the local peeps who would like 2 see regular Psy-Trance events held in the Valley...

Psy-Trance Room
SUNDROP (Mumbai, India)
Kunal Krishnan aka SunDrop is from Mumbai, India.His musical journey began when he was just 12 when he picked up a guitar for the first time listening to bands such as Gnr, Nirvana, Limp Bizkit, Metallica, The Doors etc.There has been no looking back since.He was introduced to Electronic dance music in 2003 and, since 2005, has held residencies at some of the finest nightclubs including Provogue Lounge (Mumbai), Quilla (Mumbai), and Guest nights at Club Escape (Mumbai), Enigma (Mumbai), Likwid (Bahrain), to name a few.
PSYCARUMBA (Lost World Productions, Gold Coast)
Still no write up...! but you know who he is...
YASSA ACID PHAT (Omega 3 Productions)
Yassa Acid Phat / Dee jay doh was first introduced to the psychedelic trance scene at the dawn of the millennium (Dawning Festival -January 2001) at our beloved "Gorge Station" near Bonalbo, NNSW and was probably one of the greatest experiences of his life. Trying to forget the worries of his taxing day job, the next half a decade or so of his downtime consisted of bandying about the bush with "all the freaky people" who incidentally do "make the beauty of the world" (Thanks Mr Frante) Growing evermore fascinated with this amazing culture, people and of course music, it wasn't until a few years ago, after living with CY (and all his PSY), that he began to discover the art of mixing. Coupled with the sideways ramblings of fellow DJ's cafe Rae and Forrest gimp, project Yassa Acid Phat was conceived. The latter half of 2005 saw young Yassa brave the great unknown as he disappeared above the equator. 5 months later he returned with a wealth of inspiration after experiencing what the huge European psychedelic trance scene has to offer. Now returned to his home in BrisVegas, he has settled into a new double life; mild mannered accountant by day, DJ and party organiser by night. Phat acid trance parties to date include Progressions of Freedom I and II, Regressions from Monarchy, Escapades from Exhibitions, The Invasion Day Doof and the collaborative effort; Trust no Goblin (Except This One:-). Memorable support gigs to date include Menog and U-reckon (TNG III Winter Solstice 2006), Vibrasphere (Genesis -October 2006), The Artifakt (Quantum Relic - November 2006), Phoney Orphants, John "00" Flemming and Raja Ram (earl of fnord - December, 2006) and Crazy Ducks (The Invasion Day Doof – January 2006)
DJ DEPTH CHARGER (Chunk Junky Records)
Scott Neale, aka DJ Depth Charger (Chunk Junky Records/Disasterpeace Records) fell into the wonderful world of electronic music back in 2004. After attending his first out door dance party he quickly realised how appealing pretty lights and thumping music were and decided to make it somewhat of a life style. Out of all the genres of electronic music he found that psychedelic trance grabbed him by the giggle berries harder than any other, and after going over to a mates place and using the flanger effect on one of his favourite tunes and getting a kick out of how the sound changed he decided that being a disc jockey was for him. He started out mixing morning "cheese" and frowned upon all other styles of psytrance, but after getting his face torn off by two friends who play harder night time gear he quickly started slipping down the dark edge of the psychedelic knife. His style can now be described as knee twisting, gear shifting, chunk grinding, solid charging, and non-stop in your face full-on night time power psy.
CASSOWARY (Praxis)
The cassowary is a large flightless bird. There are three kinds of cassowary, two found in New Guinea and one, the southern cassowary, found in northern Queensland. Their habitat is tropical rainforest.
The cassowary has a horny helmet, called a casque, on its head. This helps it crash its way through the thick forest. The skin on the cassowary's head and neck is blue. Two long red 'wattles' hang down from the neck. The feathers on the body are black and look more like hair than feathers. The legs are thick and greyish, with three toes. The inner toe has a 12 centimetre claw-like spike, which is used in defence. Cassowaries can be dangerous when cornered.
Cassowaries eat fruit and seeds. The seeds pass through their bodies, and so the cassowary plays an important part in spreading seeds of rainforest plants. They also eat small mammals and birds they find dead.
DANTERA (Omega 3 Productions)
(a.k.a. Dan Morrison) was born in Byron Bay and brought up in sunny Brisbane, Queensland! Dan grew up with a love for all Music from classical to old skool & mainstream. Whilst studying Sound & Lighting at MacGregor High & Griffith University, Dan started collecting & mixing vinyl from the age of 15 under the name, Velociraptacon! (the evil transformer dinosaur)
Amongst dan & friends came the creation of crew Neuro Zenith Voodoos .. where Dan assisted in rigging installations & performing. Passing the year 2000, Dan changed his name to Dantera in suit of the undescribeable journey psychedelic trance was taking, and even to this day, Dans style has not changed and he continues to enlighten crowds minds with the element goa style!
BLATWAX (Elastic / Deep Space) ॐ
Blatwax (Blajke Eyles) is a Brisbane based Dj/Producer/Instrumentalist who has been groping the QLD/NSW doof scene since 2007. Despite his age, Blatwax has mastered the Tricycle, Safety Scissors & most recently the fine art of dropping huge beats and improvising psychedelic samples/saw wave farts over the top. Make sure you've got your Lysergic Monocles on for this one kids…
VERTICAL TRANSPORT (Deep Space, Cairns /Brisbane) ॐ
Originally from Cairns and now residing in Brisbane, Vertical Transport is a Dj/turntablist/producer and promoter of Deep Space Entertainment. With over 10 year's experience preforming & promoting events he has supported some of the biggest names in the electronic world such as – Ferry Corsten, Skool of Thought, Loopus in Fabular, Freestylers, Dj Hyper, Concord Dawn, CTRL-Z, Splitloop, Benza, Sugar and Krusty, Grouch, Utar Saints, Bexta, Mark Dynamics, Dj Sveta, John & Pewee Ferris, Dopamine, Simon Coyle, Sleeker… the list goes on and on….
Vertical is a Dj, very well known for his crafty skills on the 2 turntables and has played for countless amounts of Clubs, Doofs, Festivals and Radio stations etc. VT will often drop massive FX in on top of tracks and samples that have either - politicly suggestive and/or spiritual themes. His ability to make a crowd go hyper is his passion and profession. This can be clearly seen within the first 5 minutes of hearing one of his sets…
While Vertical can be known to drop in anything from Minimal to Dub-Step, Psy and/or Breaks. The main style of beats that he is best known 4 are DARK PSY-BREAKBEATS (around 140bpm). This enables him to venture anywhere within the boundary's of Broken beats and Psy-Trance and depending on the mood of the crowd, will often lean more towards one or the other…
DEMO
Check out -
http://soundcloud.com/verticaltransport
Dub-Step / Drum & Bass Room
KHEMICAL KURT (Deep Space, Brisbane)
Having worked with mad scientists Virtual Touring on Queensland's Advent*jah parties and Future Underground Nation at Glastonbury's infamous Dance Valley, Khemical Kurt knows the fundamental change associated with a scientific breakthrough.
Conical flask and petri dish in hand, Khemical Kurt first started djng at house party's in South London where he was based from 2003 to 2006.
Since returning to Australia, Khemical Kurt has focussed on spilling his volatile concoctions in the Queensland underground, contaminating club nights, house parties, independent art galleries and illegal outdoor events.
As one of the founding members of the Brisbane Ableton Collective, Khemical Kurt is now taking his new wave electro and concentrated breakbeat solutions to the clubs.
Khemical Kurt's recent mixes have received in excess of one thousand downloads online and seen him approached by UK DJ/producer Ils to perform two exclusive sets for Ministry of Sound radio.
KURUPT (Bass Creepz)
Rus aka kurrupt. born and bred in hokitika new zealand moved to brisbane in 2003. No.1 playa for the BassCreepz brisbanes most slammin drum and bass outfit, smashin' out massive tunes with filthy phat bass lines & promoting drum and bass here in brisbane... Kurrupt also play drums for hard rock band Ten 80 playin all over queensland. ......... This Bwoy like ta keep it deep!!
RIBERY (Disconekta)
Originally Hailing from Northern N.S.W, Dion Sharman has been involved the outdoor music scene for over a decade, playing a range of different styles under different monikers before settling into the funky, flatulent, genre free sound Ribery is known for. With his sets being described as everything from wobble-worthy mullet funk to full cream fudgestep, Ribery likes to inhabit a quirky soundspace where the ground is squelchy underfoot. Ribery has performed at festivals such as Splendour In The Grass, Earthfreq, Quantum Relic, earl of fnord, Exodus, Somatica, Earthdance etc, and in the last 12months alone has played alongside acts such as Haltya, Ill Gates, An-Ten-Nae, Tipper, Zen Mechanics, Zion Linguist, Rubix Cube, Deadbeat, Painkiller, Fatali, Maetrik, Vibesquad, Meat Axe/Hefty Output, Sensient, Autonomech, Maxuam and Grouch. Dion has been involved with both Harmonize records and Ipomoea records before settling into the role of label DJ and co-owner or Disconekta records. Expect a cheeky, very dance-able experience with lots of surprises!
MOISTA CLOISTA (SixBux/CrankTheSteza)
Moista Cloista is a psychoacoustic science experiment gone wrong,
brought to life in an underwater lab somewhere in the post apocalyptic swamps of Shanti Town by the hideously deformed and slightly insane Dr. Lawnsnail. After a falling out with Dr. Lawnsnail about the natives involuntary flatulence and nipple retraction caused by prolonged exposure to the Cloista's low end frequency experiments, and deciding Shanti Town was way too shanti, Moista Cloista left home with his box of moist, heinous post-apocalyptic sledgestep to cause flatulence, nipple retraction and mayhem elsewhere. Moista Cloista was last seen cranking the steza and experimenting with flatulent basslines and wonky dub inspired beats along side Artists and Dj's such as An-ten-Nae, Tipper, iLL Gates, Dov, Deekline, Circuit Bent, Grouch, Spoonbill and many more...
AFRO GALACTIC (Praxis)
Resident Dj / founder and promotor of Urban Doof Productions, Inside-Out, Deep Space & Praxis. Afro(ben) is fast becoming known as one of South East Qld's most hard working players & favorite Djs. He is a very versitile and agressive Dj who can be known to drop in anything from Psy, Breaks, Dub-Step, Glitch...
BASTION (Deep Space, Bellingen)
Hailing from Bellingen, Nsw, Bastions musical journey started @ the ripe old age of 14 influenced by early Dnb and taking to decks soon after. Being influenced by the energy release and Sonic freedom electronic music offers, have seen him allways pushing the sounds. Spicy selections with broadsound covering ZE Breaks to Drum & Bass, from Bass Heavy Glitch Tech to Future Cut-Slut Funk. Bastion is contantly booked out playing parties, festivals, clubs & has suported acts such as - Murder One, Chase & Status, Concord Dawn, Red One, Tipper, Bass Nectar, Frenzy, Urban Monkeys, Grouch, Tom Cosm 2 name a few... The milky bars on him kidz...
$15 entry or $10 b4 10pm
:welcome pals: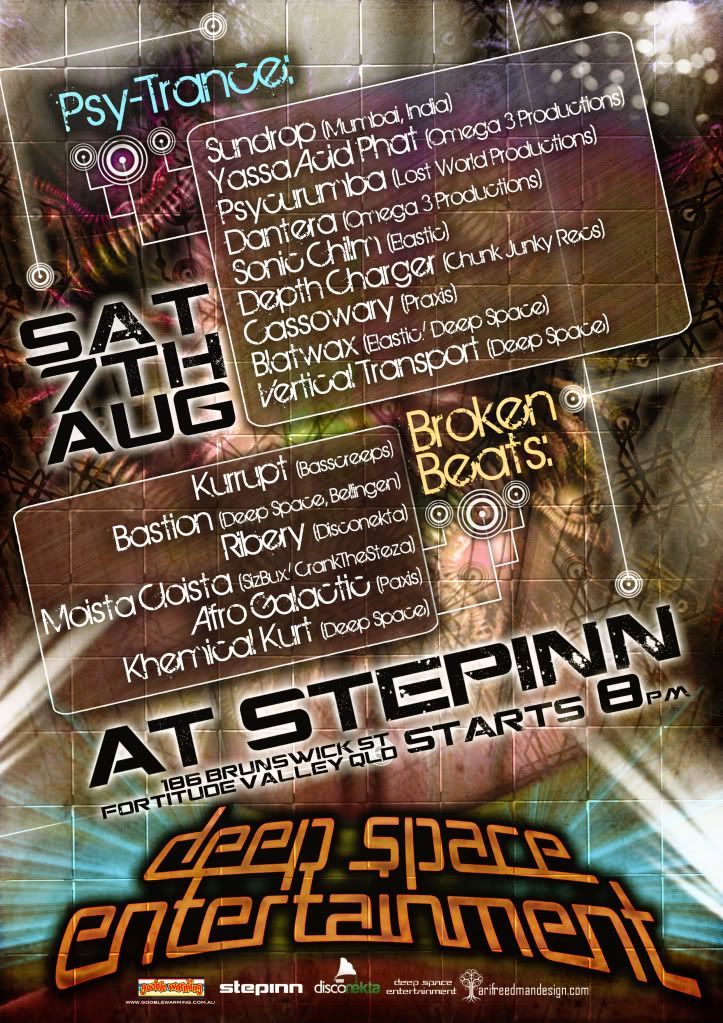 Attachments
hubble-text.jpg (91.72 KiB) Viewed 701 times
Last edited by
Deep Space
on Wed Jul 07, 2010 1:22 am, edited 1 time in total.
Posts: 38
Joined: Tue Mar 02, 2010 10:25 pm
Posts: 38
Joined: Tue Mar 02, 2010 10:25 pm
---
The 1st 4 have been really fun and really successful - But we still need lots more support from the local peeps who would like 2 see regular Psy-Trance events held in the Valley...
Posts: 38
Joined: Tue Mar 02, 2010 10:25 pm
---
ૐ ✯ ૐ ✯ ૐ ✯ ૐ ✯ ૐ ✯ ૐ ✯ ૐ ✯ ૐ ✯ ૐ ✯ ૐ ✯ ૐ ✯ ૐ ✯ ૐ ✯ ૐ ✯ ૐ ✯ ૐ ✯ ૐ ✯ ૐ ✯ ૐ ✯ ૐ ✯ ૐ ✯ ૐ ✯ ૐ ✯ ૐ ✯
Set timez
Psy room
08 - 09 = Vertical Transport (Deep Space, Brisbane)
09 - 10 = Sonic Chilm (Elastic, Brisbane)
10 - 11 = Yassa Acid Phat (Omega 3 Productions)
11 - 12 = Cassowary (Praxis, Brisbane)
12 - 01 = Blatwax (Deep Space/Elastic, Brisbane)
01 - 02 = PsycaRumba (Lost World Productions, Gold Coast)
02 - 03 = Sundrop (Mumbai, India)
03 - 04 = Dantera (Omega 3 Productions)
04 - 05 = Depth Charger (Chunk Junky)

DnB / Dub-Step room
10 - 11 = Afro Galactic (Praxis, Brisbane)
11 - 12 = Ribery (Disconekta)
12 - 01 = Moista Cloista (Six Bux / Crank the Steza)
01 - 02 = BLUNT INSTRUMENT (
http://www.bluntinstrumentmusic.com
)
02 - 03 = Kurrupt (Bass Creepz, Brisbane/Nz)
03 - 04 = Bastion (Deep Space, Bellingen / Brisbane)
ૐ ✯ ૐ ✯ ૐ ✯ ૐ ✯ ૐ ✯ ૐ ✯ ૐ ✯ ૐ ✯ ૐ ✯ ૐ ✯ ૐ ✯ ૐ ✯ ૐ ✯ ૐ ✯ ૐ ✯ ૐ ✯ ૐ ✯ ૐ ✯ ૐ ✯ ૐ ✯ ૐ ✯ ૐ ✯ ૐ ✯ ૐ
Posts: 38
Joined: Tue Mar 02, 2010 10:25 pm
---
Now featuring - BLUNT INSTRUMENT (
http://www.bluntinstrumentmusic.com
)
Posts: 38
Joined: Tue Mar 02, 2010 10:25 pm
---
4 days 2 go, Sweeeet
Who is online
Users browsing this forum: No registered users and 1 guest