The Underground Resistance 25th Feb @ Jubilee Hotel
Posted: Mon Jan 30, 2012 2:16 pm
*** EssentialSlamFunk ***
present.....
T
he Underground Resistance
We return this month to the Jubilee Hotel to bring
you a vast array of underground sounds from
around the country and the world....
So come along and get your monthly fix of
underground sounds......
This month we present THE RIDDLER and
FUNKADELICASY'S EP LAUNCH....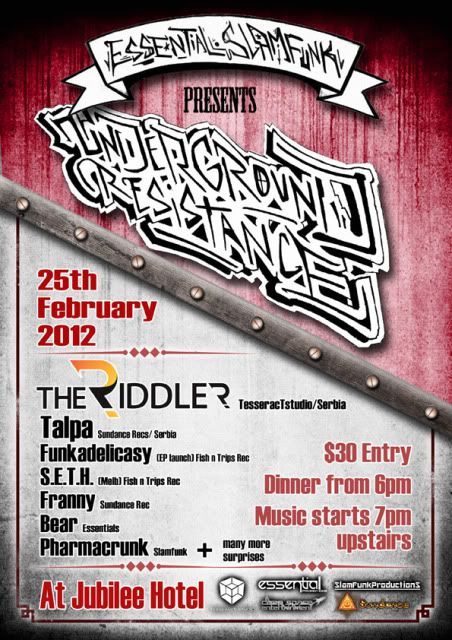 Direct from his set at Earth Frequency Festival we have Talpa so if your enjoyed his set there, come see him in a intimate atmosphere at the Jubilee.
Talpa
Sundance Records/Serbia
Behind the project Talpa is Goran Juric from Serbia. This project was found back in late 90's, his first releases came out 2002.
Talpa released his first album "Art Of Being Non" on the Australian record label SunDance Records in 2004 from which he got great responce from people on dance floors around the globe.
After a 4 year break, his second album "When The Somberness Becomes A Game" was relased also on SunDance Records. Talpa's style is mainly fusion of many styles like trance, psychedelic, funky, carnival wraped in his very original and special way which many people find very original.
He relased trax on other labels such as: Boom rec, Psionic rec, Suntrip rec, Adapted rec, Fabula rec, Up rec, Timecode rec, TesseracTstudio...
Talpa has been a part of many parties and festivals where he performed in many countries around the world such as Belgium, Swiss, Finland, Denmark, Sweeden, Israel, Australia, Russia, Hungary, Slovakia and many other countries.
Talpa's 3rd album is just about to be released in November 2011 under the name "The Path" on Sundance records.
also added to music line up is -
Biotek
Cerebral Meltdown
The Riddler
TesseracTstudio/Serbia
After spending many years in a psychedelic world, Goran Juric aka Talpa, decided to change his style a bit in a different way.
In 2009 he meets guys from TesseracTstudio and decide to join together sharing the same vision of electronic music.
Even with The Riddler being such a young project, he already has many relases on various compilations, few EPs and one album called "Questions"
released by TesseracTstudio.
Also with many gigs behind him in countries like Russia, Australia, Swiss, Sweeden, Finland, Croatia, Denmark etc..
At the moment The Riddler is working on a second album which is planned to release in Janury of 2012.
Funkadelicasy - EP launch
Fish n Trips rec.
Funkadelicasy is the psychedelic spawn of Daniel.J.Cieslak. The (Live/DJ) act has been pushing the boundry's of sound since working with such artist's as:Electrypnose, Karash, Xabbu, Airi, Jaadoo, Clean Trip, Aslak and Torog, plus many more from around the world in the beautiful alps of switzerland in oct 2009. Funkadelicasy has embarked on a journey of highly energetic european bliss. A synthesis in digitally modulated frequencies.
The idea i portray is to create chunk with a bit of funk, full-on night time power with solid grinding, Mechanically influenced leads blending to fuse an electricfied presence. Letting the freqeuncy's of digitally nintendo like sound's create a psychedelic atmosphere for the dancefloor!.
This spawn rising from the background of heavy metal as a child , Then From the age of 13 started producing aussie hip hop and dabbling round with some minimal tech. Funkadelicasy travelled to many parties far an wide finding that psy-trance can take you to other worlds and beyond!
S.E.T.H. Melb
Fish n Trips rec
S.E.T.H is 32 yr old Luke Burns. With a home town based in Sydney Australia Luke has been busy with music in many styles since the age of 15. Since that age Luke has succesfully released under warhead records, armless canine Records, Electric Powerpole records and his own label Fish 'n Trips RecordsSince 2009. S.E.T.H spearheads Sydney psytrance act SINISTER SEQUENCE (epp recs/FnT recs) and collaborates regularly with HEDONIX (epp recs/cosmic conspiracy recs/vertigo recs) to create a dynamic range of electronic music designed for trance dance floors and produced using a variety of equipment. S.E.T.H has worked with some of the best in the business including PROTOCULTURE, SENSIENT, SUN CONTROL SPECIES, SENSUM, ARTAX, TRON, SHADOW FX, TETRAMETH, and many many more.
Franny
sundance rec

Bear
Essentials

Puff n Stuff
Slamfunk

Pharmacrunk
Slamfunk
plus many more surprises
Visuals by
Wildcat
Decor and lighting by
Essentials
SlamFunk
Elcycer
Outback Entertainment
Jubilee Hotel 25th Feb 2012
$30 entry
Dinner from 6pm music upstairs from 7pm