Forum
Skip to content
Western Australia Forums - Upcoming Events, Lifts, Scene Discussion & more.
Posts: 6
Joined: Sat Mar 27, 2010 12:50 am
---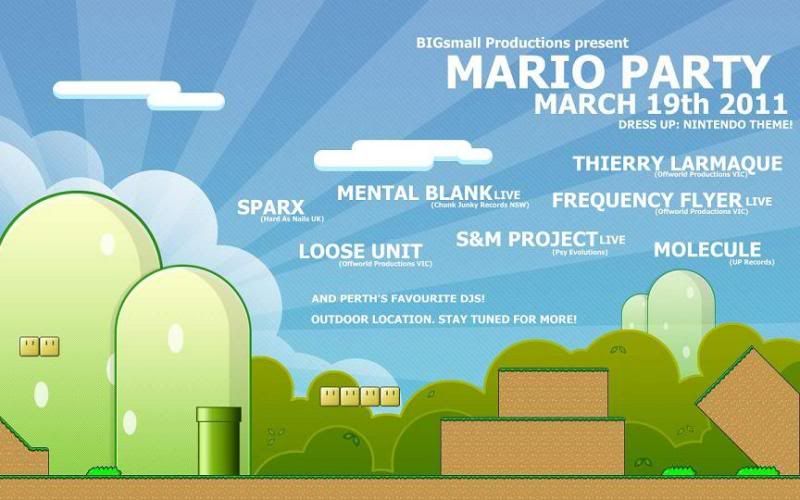 BIGsmall Productions has gone 8 bit and presents to you MARIO PARTY!!!

With a tasty selection of Psytrance, Hard NRG, Goa, Progressive, Electro, Funk n Chunk and techno!!!<<FEATURING>>
SPARX (UK)(HARD AS NAILS)(LIVE/DJ)

Sparx runs Hard As Nails records with Resh and mainly focuses on the production of experimental Hard Nrg and Hardhouse. He began listening to hard house at the age of 14 and since then has co run a night club night at Birminghams 'Sanctuary' nightclub called Emergence and produced over 11 tracks, three of which were recently signed to Canadian label 'The Beatranch" on the 'The Beatranch Extended EP'. Sparx has dj'ed at numerous free parties and also 'Crank' a Birmingham based Hard Nrg night at the custard factory in Birmingham and also 'Vision' in Staffordshire. We are very excited to have him on board and will be playing his first ever set in Australia at Mario Party!
http://hardasnailsrecords.com
MENTAL BLANK (NSW)(CHUNK JUNKY)(LIVE/DJ)
Mental Blank is the Live performance of Volt (2to6records) from Byron Bay Australia. Starting off partying in the hills of Byron bay in the late 90's, volt started the natural transgression to Djing at parties for several years - before trying his hand at production in late 07 early 08. Using Nuendo 3 as his platform, Mental Blank is still new to this game - but hopes as time progresses - you will hear bigger and better sounds coming through his tracks and Performances. Having Just signed to Chunk Junky Records over the Winter of 09, and with a release being imminent on the same Label, Mental Blank looks forward to seeing as many of you possible on a dance floor asap.
http://www.myspace.com/mental1blank
FREQUENCY FLYER (VIC)(OFFWORLD)(LIVE)
Frequency Flyer is the psychedelic dance project of Gareth Hailey, a Jazz-trained percussionist and student of Classical composition. He started writing music on computers at the age of 8 and in the many years since he has evolved his own unique style of electronic dance music fusing Psychedelic, Breaks and Trance, with the diverse influences of Classical, Rock, Jazz and Ambient. At one moment uplifting, the next, dark and dirty; his sets provide the listener with a progressive and mind opening experience. With over 12 years experience in the music industry as a drummer, DJ, promoter and live electronic artist, Gareth has toured with various bands from the age of 18, simultaneously honing his craft as a producer and DJ nationwide. Bringing real performance aesthetics to his live electronic sets, he utilises electronic drums and other instruments to build intricate rhythms upon his compositions. A believer in 'true live' performance, he performs with an electronic rig that enables him to improvise and remix his music on the fly.
http://www.myspace.com/frequencyflyer
S&M PROJECT (PSY EVOLUTIONS)(LIVE)
http://www.facebook.com/#!/smproject
THIERRY LARMAQUE (VIC)(OFFWORLD)(DJ)
http://www.facebook.com/#!/pages/TL/12222304446
LOOSE UNIT (VIC)(OFFWORLD)(DJ)

MOLECULE (UP RECORDS)(DJ)

HAZY (FULLAFLAVOUR PRODUCTIONS)(DJ)

MEGA PIXEL (BIGsmall)(DJ)

ANGRY MELON (BIGsmall)(DJ)

DEXICAN (BIGsmall)(DJ)

SVEN vs AIDEN (DJ)

DECIBEL (DJ)
NINTENDO THEME DRESS UP!!! (BE CREATIVE AND HAVE SOME FUN)

$20 ENTRY!!!

Lighting and Decor by BIGsmall Productions

The AMAZING FunktionAL sound system

Outdoor Location will be announced closer to the date.
This is shaping up to be one excellent party and will be our last party in Perth for a long while as for we will be heading to melbourne for east side adventures!!!

So please come and celebrate with us one last time 8 bit style and make this a night/day to remember.more information to come
Posts: 6
Joined: Sat Mar 27, 2010 12:50 am
---
nine sleeps to goooo
please message me if you would like extra info/directions!!
peace x
Who is online
Users browsing this forum: No registered users and 1 guest